ADVICE: August 2022 podcast playlist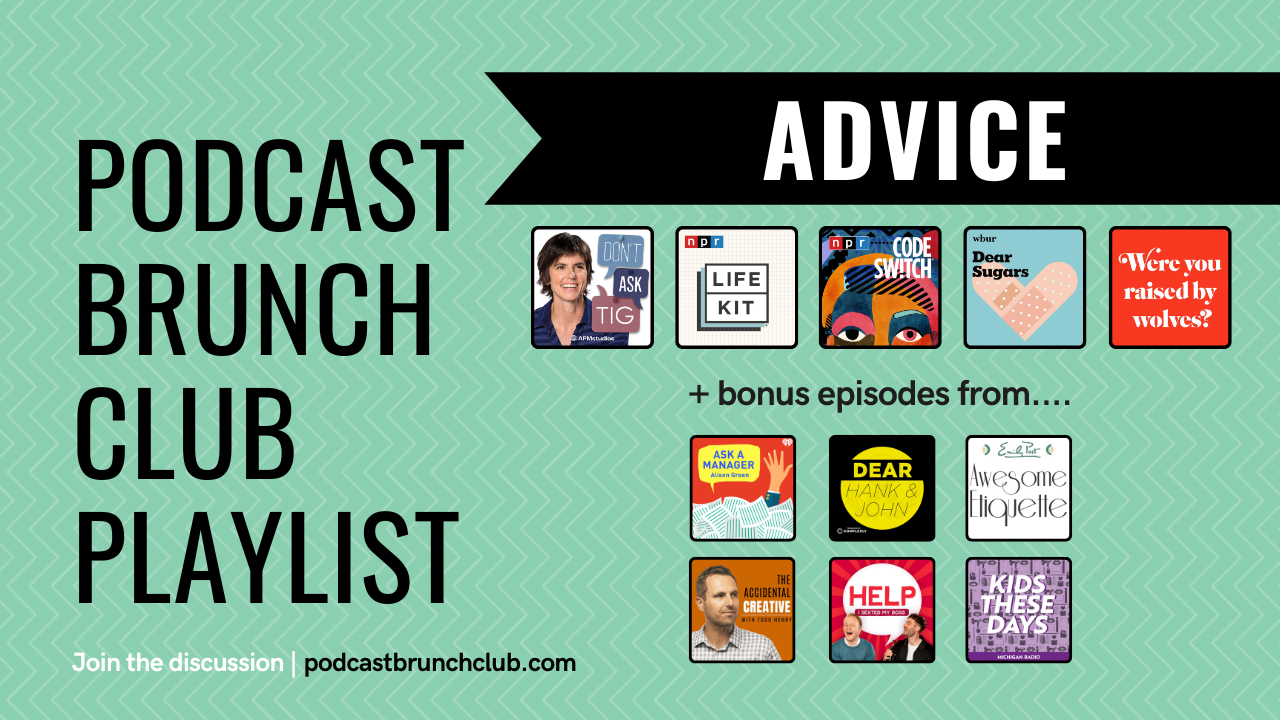 Podcasts conquered the worlds of true crime and news long ago, but there's a sleeper genre thriving just below the top of the charts. Over the past couple of years, we have been spoiled by the rise of some fantastic podcasts about giving and receiving advice. Whether we intend to or not, we all find ourselves in situations where we are asked to give or receive advice from time to time. Advice is how we learn from the mistakes and successes of others, and how we try to help others navigate around the potholes we weren't lucky enough to miss. This playlist is made up of podcasts focusing on advice from several angles. Some are more lighthearted, some are serious, and you'll even find advice on giving advice.
This playlist was curated by Matt Keller, chapter leader of our Ames, Iowa, chapter and co-founder of the music competition game Music League.
Podcast Playlist on ADVICE
Get the full playlist on your podcast player of choice using these platforms:


Don't Ask Tig: "Esther Perel" (July 2021, 46 min)
Relationship expert Esther Perel joins Tig in person to talk sex, love and intimacy. The world-renowned therapist also discusses new emotional patterns she sees as Americans emerge from pandemic lockdowns and how we can use play, like her new game "Where Should We Begin – A Game of Stories," to ease back into life.
Life Kit: "To give better advice, try less fixing and more listening" (February 2020, 20 min)
When someone comes to you for advice, where do you start? This very meta episode of Life Kit explores how to give good advice to the people you care about. Hint: it's not always about fixing someone's problems.
Code Switch: "Words Of Advice" (December 2020, 57 min)
A look at a few of the hosts' favorite questions about race and identity from their "Ask Code Switch" series. They get into food, relationships, money, language, friendship and more, so you know it's about to get a little messy (in the best way.)
Dear Sugars: "Encore: Just Say It" (April 2022, 28 min)
On this episode, the Sugars hear from people who have something to confess but are afraid to hurt others with the power of their words.
Were You Raised By Wolves?: "Passing People in Theaters, Removing Shoes in Homes, Using Coasters Properly, and More" (April 2022, 36 min)
Nick and Leah tackle passing people in theater aisles, removing shoes in people's homes, using coasters properly, and much more.
Conversation Starter Questions:
Can you think of a time that you received very helpful advice?
What is some terrible advice you received?
Are you someone who struggles to accept and apply advice? Why or why not?
If you had an advice podcast, what subject would you be most equipped to give advice on?