PBC Member Spotlight: Motolani Ogunsanya creates The More Sibyl Podcast
Meet Motolani Ogunsanya, leader of PBC's Oklahoma City chapter and creator of The More Sibyl Podcast.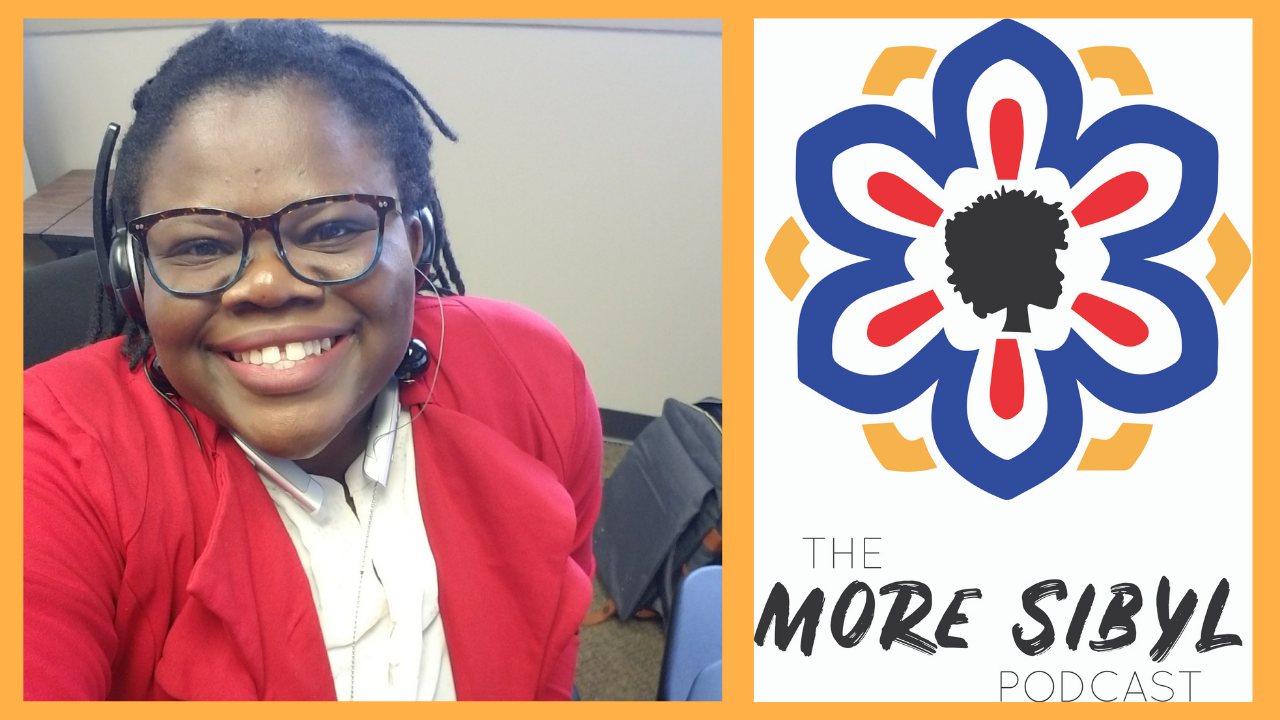 Name: Motolani Ogunsanya
PBC Participation: Leader of PBC's Oklahoma City Chapter
Project: The More Sibyl Podcast
Connect with Motolani:  Twitter | Instagram | Facebook | LinkedIn
During the day, Motalani (who goes by Mo) is an Assistant Professor of Pharmacy at a public research university in Oklahoma. By night, she creates, produces, and hosts The More Sibyl Podcast, which is a weekly podcast for Blacks and Asians and those who love them (that's everybody!). The show is about culture against the backdrop of important issues such as acculturation problems, travels, preserving cultural values, developing resilience, building emotional support, mental health issues, heart stories, and so much more.
As the host, Mo's unique perspective is derived from her experience growing up in Nigeria to now living the US, learning and speaking Korean, and enriched by the adventures her travels have brought on. She believes in cultural curiosity and in sharing stories to connect humanity. These are the overarching goals of her show.
Since its launch in April 2018, The More Sibyl Podcast has reached over 10,000 people in more than 60 countries around the world.
Let's learn more about Mo!
Where are you from originally?
I'm from Lagos, Nigeria, but now I live in Oklahoma City (by way of Austin, Texas).
What drew you to Podcast Brunch Club?
Being in a diverse group of podheads like me! That's what I love best about PBC. Like being in a space where I don't have to explain my love for podcasts; we get one another. I also love that I have this fantastic opportunity to be a chapter leader of the PBC in Oklahoma City. I have gotten to meet really cool people and shared and learned ideas with and from them.
Finally, I love the monthly playlists! I love that heterogeneous mix of podcasts are curated toward a theme. In addition to increasing my knowledge base from this mechanism, I have been able to discover new podcasts I don't think I'd have been able to by my lonesome self.
If you have a favorite PBC listening list, which one was it and why?
Languages! I love love LOVE the March 2019 playlist on Language! I am fascinated with languages – I speak 3.5 of them: Yorùbá, English, French [0.5], and Korean. I can say that my Korean-learning quest has helped open up additional pathways in my brain, thereby increasing my productivity and curiosity.
Tell us something interesting about yourself. Can you ride a unicycle? Are you a world traveler? Are you ambidextrous?
I am a total nerd who gets really high on learning new stuff. My brain is in constant need of that high so I feed it as best as I can through books, music, arts, and other media.
I am also a music enthusiast and have a good ear for music. I also love how music (especially the words) make me feel; I can't explain how much. I understand how Saul must have felt lousy that he needed David to play isomodic songs to neutralize his moods. Let's just thank God for Spotify and Pandora seeing as David is no longer with us. I also curate songs.
I am a good conversationalist and can talk/ask about any and everything.
I have an excellent memory and am very resourceful.
If you were stranded on a desert island, which 3 podcasts would you bring? Give us a short description of each.
HeavyWeight by Gimlet: Jonathan Goldstein, the host, is as awkward as he is relatable. I love his style of narrative storytelling and how he gnaws at your heartstrings for every time you feel connected to each episode. This podcast takes vulnerability, empathy, connection, and compassion to another level. My favorite episode is the one on Gregor and I have probably listened to it more than ten times.
Talk to Me in Korean: As someone who is learning the Korean language and now stuck in the bulky intermediate level, I have found this podcast deeply useful to grasp hard concepts, build on my vocabulary and improve on grammar and sentence construction. Plus the main hosts – Mr. Hyunwoo Sun and Ms. Kyeong-eun Choi – have such a good flow and make me happy while I am learning. I also love the few times Mr. Seokjin Jin features on the episodes. I started on Level 1 and I am now on Level 7. My aim is to finally get to Level 10. I will make sure to download the accompanying PDF files so my learning is optimized on said deserted island.
The Dollop with Dave Anthony and Gareth Reynolds: Hosted by two comedians, this show, mostly in the form of a bedtime story read out by one host to the other, is a full buffet option for history buffs. I have learned a lot about American and world history and several pieces of surprisingly useful and useless information. This satirical show fills with me so much laughter and dollops of knowledge too. I am sure it will provide the panacea to the loneliness of being on an island.
If someone visits Oklahoma City, where should they get a meal (brunch or not)?
Taste of Korea has the best Korean food in town. I have been a customer since 2017 and it's one of my favorite food joints in OKC. Start with the seafood pancake(해물파전) as an appetizer and go from there and I love the spicy pork bulgogi (돼지불고기). It's great Korean food as you can get and all my Korean friends have attested to this. The ajummas (ladies) who own and work there are very kind and helpful. You may mention that the Nigerian sent you for a freebie side dish or something, haha.
If you were hosting a brunch at your place, what would you make for your guests?
I cook broadly, enjoy cooking, and experiment with recipes from other countries. I will first get to know my guests through a cup of hot tea (from my vast collection from my travels around the world and by the way of Amazon Prime) and go from there. From these starter conversations, I will learn about their preferences (sauce, choice of meat, cooking style, and presentation) before tailoring these to what I will cook for them. This approach has never failed! Food is central to my identity as a Nigerian and we take cooking as a ritual, making sure that whoever we open our homes to are well taken care of.
Traveling! I have visited more than 35 states in the US since I moved here in 2011 and traveled to 11 countries around the world. But I will like to be paid to travel more, especially to Europe and Asia, to bring the joys of global connectedness and community from a nomadic African's perspective. If anyone reading has an offer for me, I am ready to jump aboard!
How are you able to devote time to reading/creating with the distractions of social media?
I am not one to bash social media use in such a way has it has provided a lot of fodder for me to explore my creativity. Ideas obsess me and I find the quest of knowledge to be as orgasmic as can be. Creating podcast episodes and reading provide that outlet for me because otherwise, I am not a joy to be around myself or other people. I have made amazing connections with people on the internet and have learned a lot from their processes to enrich mine.
I also read everywhere! I read on my way to work (via Overdrive audiobook app) to help with road rage (j/k), I have a bookstand in my bathroom and rotate my potty reads. This might explain why I can spend minutes in the restroom, I promise, I no longer have hemorrhoids. I read books on my phone and Kindle as well. I have some sleep issues, so I keep a book or two on my nightstand to help lull me to sleep when I am not watching K-dramas.
The key is to finding balance in whatever you do. As a polymath, I have found the importance of finding several outlets of expressing my passion and creativity, to create for a balanced, happy, and full life.