HOME: May 2023 podcast playlist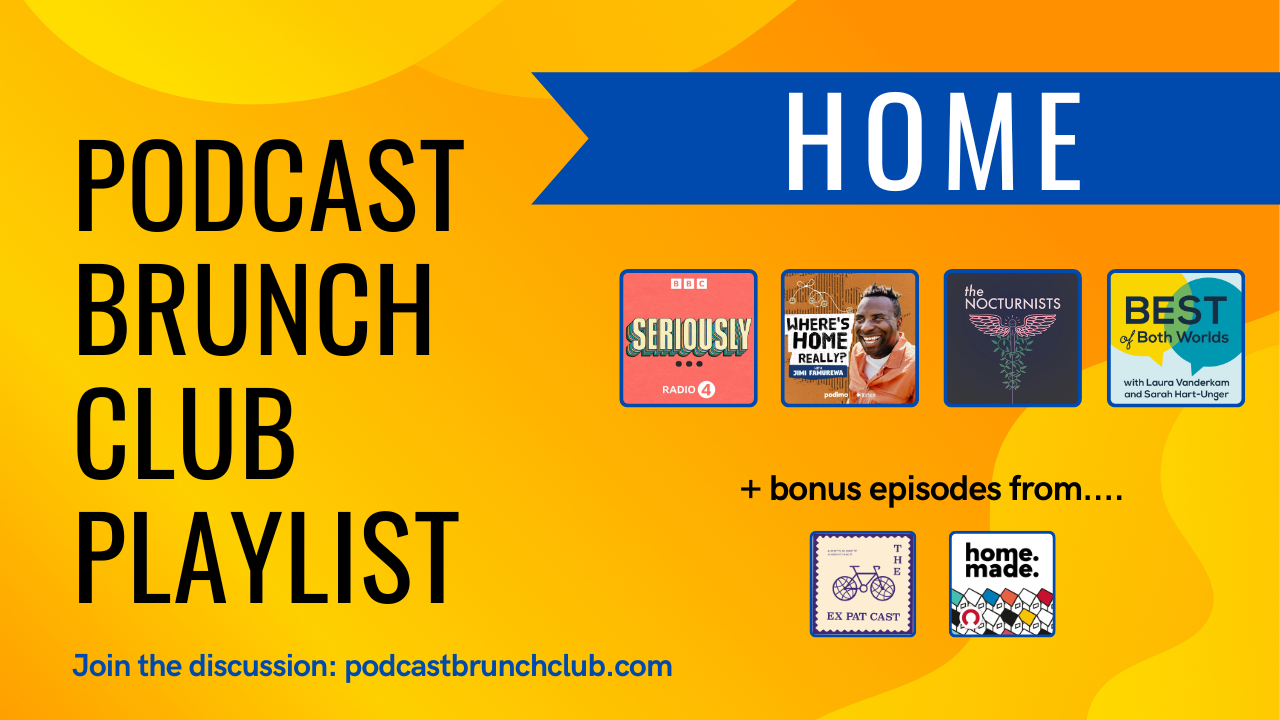 When you say "home," what comes to mind? Are you thinking of a physical structure? A geographic location? Perhaps you are even thinking about a person or a smell. Home can represent a place of safety, comfort, and belonging. Home is a fundamental aspect of human experience that shapes our identity, relationships, and sense of place in the world. This playlist explores the idea of home.
Podcast Playlist on HOME
Get the full playlist on your podcast player of choice using these platforms:

Seriously…: "Homesick Planet" (March 2023, 29 min)
Astronaut Major Tim Peake, journeys into the misunderstood phenomenon of homesickness. And, Psychotherapist Sarah Temple-Smith who works for the Refugee Council believes the condition is widely misunderstood and its impact critically under-appreciated. She believes it's a deep-rooted condition with existential consequences.
Where's Home Really?: "1: Where's Home Really… for Stephen K Amos?" (March 2023, 29 min)
In each episode, Jimi Famurewa asks a guest to reveal a person, a phrase, a place and a plate that best represent what home means to them. In this episode, comedian and actor Stephen K Amos joins Jimi to discuss how – as a second generation Nigerian in London – he's subverted perceptions of his heritage to win over audiences and create a space in the comedy world on his own terms.
The Nocturnists: "Black Voices in Healthcare – Ep.3: Home" (July 2020, 29 min)
This episode is part of The Nocturnists' Black Voices in Healthcare series. Many healthcare workers travel far and wide for their job. This is a compilation of answers to the question "What is home to you?"
Best of Both Worlds Podcast: "Finding Home Wherever You Are with Melody Warnick EP 261" (August 2022, 49 min)
In this episode, Laura discusses her own thoughts about place and choosing where to live, and then interviews Melody Warnick, an expert on place attachment. They explore the power of place and the newfound flexibility many remote workers have found in the current era.
The Expat Cast: "Finding and Defining "Home" with Keltie" (November 2022, 38 min)
Where do you call home? For many expats, the question isn't an easy one to answer. Many places? No place at all? Keltie Maguire is a Clarity Coach who moved from Canada to Germany several years ago. She uses her professional expertise and personal experience to shed light on the sticky subject of home: how to define it, how to create it, and how to make a place feel more like it.
Home. Made.: "Home. Alone." (May 2021, 26 min)
Two very different stories about communication issues, and how being home alone can become a catalyst for connection. In the first story, Audrey Murray finds herself in Shanghai – completely unable to speak Chinese. Eventually she realizes she needs to break out of her English-speaking bubble. In the second story, married couple Rebecca and Shawne Huff face an unhappy life together unless they can learn how to communicate. They discover a unique living arrangement that could be the answer to their relationship problems. They quickly learn that this new reality will require a lot of trust to make it work.
Conversation Starter Questions:
How do you define home?
If you had to chose a person, place, phrase, and plate that defined home for you, what would you choose?
Does your personality fit your place?
Have you made an effort to make the place you live your home? How have you done that?
Do you live where you grew up? If not, do you call the place you live now home or do you call the place you grew up home?