PBC Global Virtual Chapter
Thanks for your interest in the PBC Global Virtual Chapter!

At our June meetings, we will be discussing the DREAMS podcast playlist.
Note: Registration is required, which will require you to create an account on the Kazm platform. Once you register using the links below, you will be sent a confirmation email and a few reminders. Be sure to add it to your calendar!
Meeting dates are as follows (register using the links below):
Fill out the form below to be notified about upcoming meetings of the global Virtual Chapter of Podcast Brunch Club.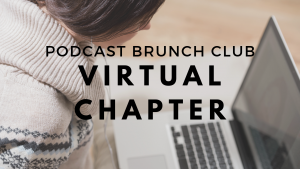 Podcast Brunch Club is a community of engaged podcast listeners: we bring people together for thoughtful discussion around a theme. Every month we explore a theme by way of 2-5 hours of podcast listening selections. It's truly like book club, but for podcasts: members listen to the episode selections on their own time and then meet in person to discuss. Don't forget to join the Facebook group to interact with PBC members in chapters across the world! We're also on Twitter.