PBC Member-Creator Spotlight: Jenna Spinelle creates the Democracy Works podcast
Meet Jenna Spinelle, co-leader of PBC's Virual Chapter, author of many PBC feature articles, and host and producer of the Democracy Works podcast.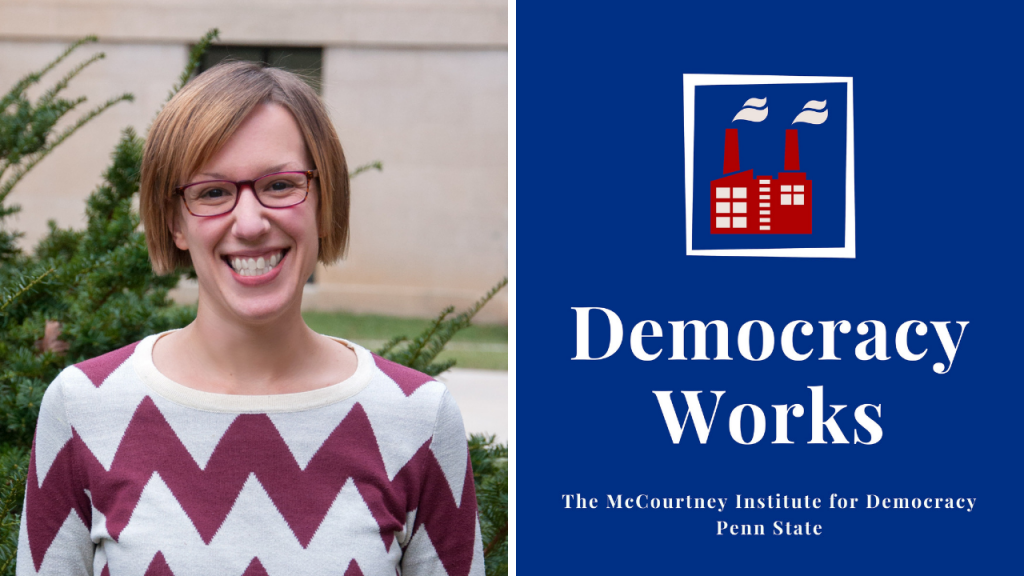 Name: Jenna Spinelle
PBC Participation: Co-leader of PBC's Virtual Chapter and author of many of PBC's feature articles
Project: Democracy Works podcast
Connect with Jenna: Instagram @jspinelle and LinkedIn
Tell us about your creator project(s).
I am the host and producer of the Democracy Works podcast. I am very fortunate to work on the show as part of my job with the McCourtney Institute for Democracy at Penn State. Each week, my co-hosts and I examine a different aspect of what it means to live in a democracy — from gerrymandering to criminal justice to the free press. Previous guests include social psychologist Jonathan Haidt and David Frum of The Atlantic. We launched the show in March 2018 and now have listeners in all 50 states and 110 countries.
Where are you from originally and where do you live now?

I'm from Pottsville, Pennsylvania. It's the home of Yuengling, America's oldest brewery. If you ever find yourself there, I highly recommend taking the tour. I currently live in State College, Pennsylvania, which is where Penn State is located.
What is your favorite thing about Podcast Brunch Club?
I love meeting people from all around the world through the virtual chapter. I have a journalism background and truly believe that everyone has a story to tell. Also, as someone who spends a lot of time following politics for my podcast, it's a nice reminder that there are a lot of things that unite us and we are not as divided as the pundits make it seem.
If you have a favorite PBC listening list, which one was it and why?
I've been a bookworm my whole life, so I have a soft spot for the April 2019 playlist on libraries. My local library has a podcast and I worked with the marketing staff member there to get it up and running.
What's a fun fact about you?
As a journalist, I've interviewed rock stars, politicians, and CEOs. But my favorite interview was with a group of 80-something volleyball players called the Spunky Spikers. They invited me to play a round with them and I'm not at all ashamed to admit that they kicked my butt!
If you were stranded on a desert island, which 3 podcasts would you bring?
Think Again – In-depth conversations about big, philosophical topics. I often need to listen to these episodes more than once so having the extra time to digest them would be great.
Political Beats – This show features political journalists and commentators taking deep dives into artists and albums. This would satisfy my cravings for music and politics in one fell swoop.
Longform – This podcast is all about the craft of longform journalism and is the show that really got me into podcasts. I might not get to do much reporting on a desert island, but I could at least pretend by listening to this show.
If someone visits the city you live in now, where should they get a meal (brunch or not)?

Ice cream from the Berkey Creamery at Penn State is a meal in and of itself. Ben and Jerry learned how to make ice cream there, so you know it has to be good! My favorite flavor is WPSU Coffee Break, which is coffee ice cream with chocolate chips.
What is your favorite pastime/recreational activity?

My husband and I are huge live music fans. We've been to concerts and festivals all over the United States and see about 40 shows per year. Right now, we are loving a band from Philadelphia called Low Cut Connie. A lot of my podcast listening is done on car trips to and from shows.