ANIMAL BEHAVIOR: July 2023 podcast playlist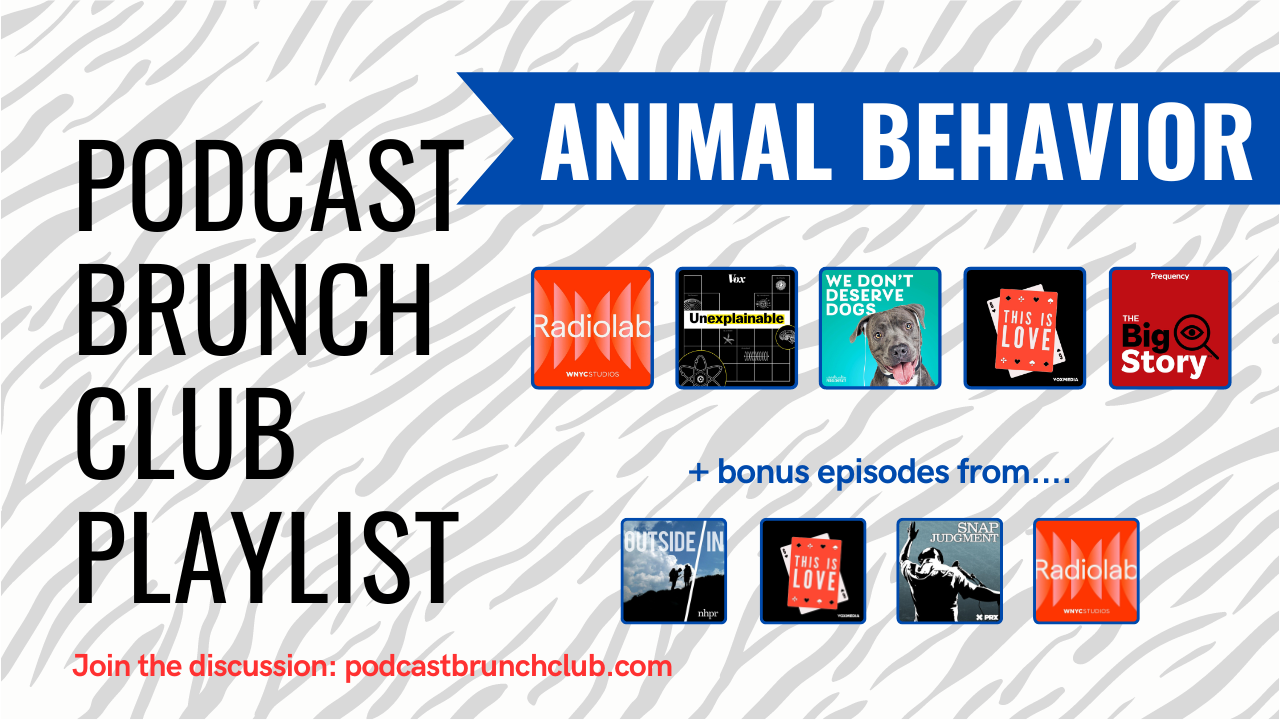 Humans and animals interact on a day-to-day basis. This playlist showcases how those interactions can lead to insight and understanding, but how it can also be harmful.
Podcast Playlist on ANIMAL BEHAVIOR
Get the full playlist on your podcast player of choice using these platforms:

Radiolab: "Animal Minds" (November 2021, 59 min)
When we gaze into the eyes of a wild animal, or even a beloved pet, can we ever really know what they might be thinking? Is it naive to assume they're experiencing something close to human emotions? Or is it ridiculous to assume that they AREN'T feeling something like that? We get the story of a rescued whale that may have found a way to say thanks, ask whether dogs feel guilt, and wonder if a successful predator may have fallen in love with a photographer.
Unexplainable: "My octopus friend?" (April 2022, 25 min)
Octopuses are largely solitary animals, but there have been rare times — notably in the movie My Octopus Teacher — where they seem to have become comfortable around humans. But is it really possible to be friends with an octopus?
We Don't Deserve Dogs: "Ep. 76: Christina Hunger" (May 2021, 47 min)
From the amazingly popular IG page @hunger4words, it's speech/language pathologist Christina Hunger! You might know her as the lady that TAUGHT HER DOG TO TALK! She tells us all about her process and her upcoming book "How Stella Learned To Talk." Dr. Lisa talks doggy diets and Richie judges Chloe for not talking.
This is Love: "Episode 46: The Visitor" (April 2022, 25 min)
Many years ago, Cathy Raven decided to build herself a small house on a large piece of land in rural Montana. She's said, "I saw myself alone in the furthest future that I could imagine."
Then a red fox began to arrive, at the same time every day.
The Big Story: "Why are some orcas suddenly attacking boats?" (June 2023, 19 min)
For the past few years, orcas off the coast of Portugal and Spain have been attacking, and sinking, small boats. At least three boats have been completely sunk, and many more have needed urgent rescue. This behaviour doesn't occur in other orcas, and nobody can figure out exactly what's changed.
There are some theories regarding trauma, or differences in their habitat. There are very real things called "orca fads"—like that time they wore dead salmon on their heads. And there is, always, humanity's endless desire to use our own narratives to explain animal motives—which is why you see people asking if the orcas are fighting back. But what's really at the heart of this behaviour? And what happens if it spreads?

Bonus podcast episodes:
Conversation Starter Questions:
Have you had any notable encounters with wild animals?
Do you have pets? If so, how do you communicate with them?
Do you think humans should interact with animals more or less?