ALTRUISM: March 2023 podcast playlist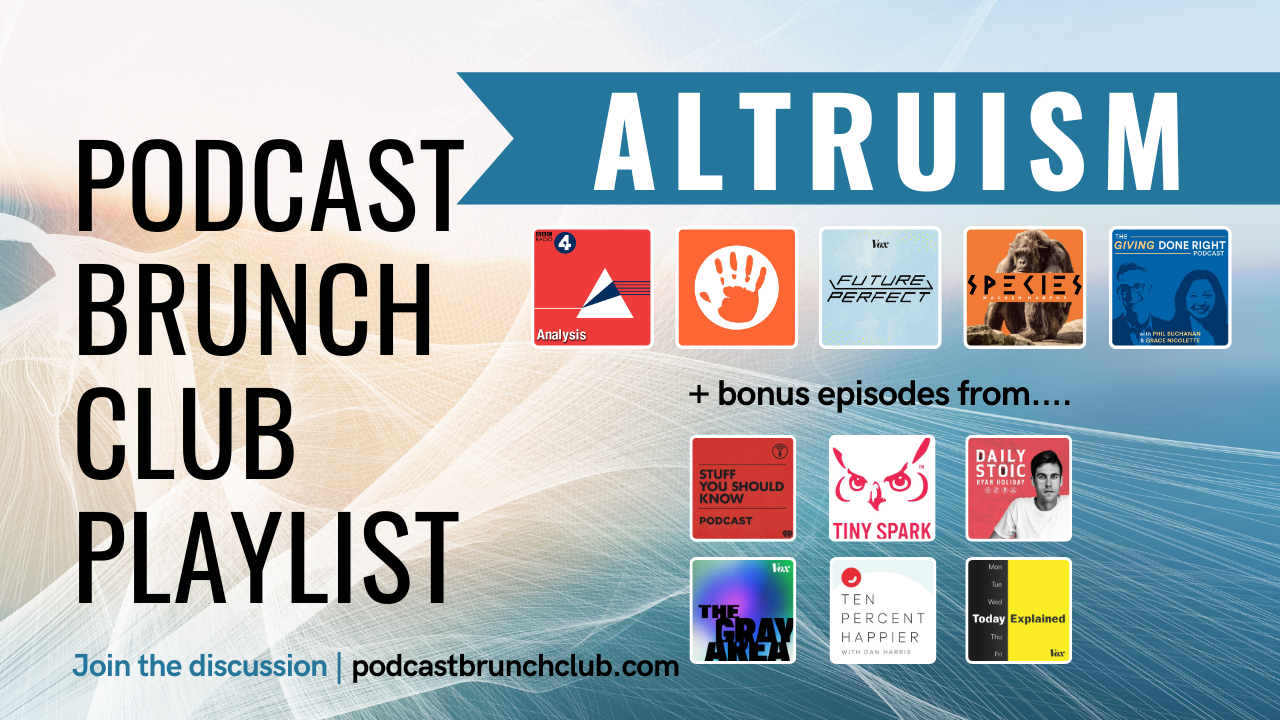 Altruism seems like such a no-brainer good idea. Give to those in need. Give to charities. But, every dollar we give to one person or organization is a dollar we potentially don't give to another. And, what makes humans altruistic in the first place? Is it our culture and higher order society that brings about these qualities or is there an underlying reason dictated by evolutionary biology? This playlist explores the pros and cons of effective altruism, direct cash giving, and the view of altruism from the perspective of evolutionary biology.
Podcast Playlist on ALTRUISM
Get the full playlist on your podcast player of choice using these platforms:

Analysis: "Can Effective Altruism really change the world?" (October 2022, 29 min)
If you want to do good in the world, should you be a doctor, or an aid worker? Or should you make a billion or two any way you can, and give it to good causes? Effective altruists argue this is the best use of wealth. But philosophers argue charitable giving is often driven not by logic, but by a sense of personal attachment. David Edmonds traces the latest developments in the effective altruism movement, examining the questions they pose, and looking at the successes and limitations.
Humanize Me: "804: How to think about Effective Altruism" (February 2023, 43 min)
With the fall of one of effective altruism's star advocates, cryptocurrency exchange owner Sam Bankman-Fried (SBF), how should we think about the movement?
Future Perfect: "How to save a stranger's life" (October 2018, 24 min)
In 2016, Dylan Matthews donated his kidney to a complete stranger. He didn't think he was doing anything really extreme or remarkable. He was just trying to do the most good he could. Dylan was taking part in a movement called effective altruism, a community that tries to maximize the good you do.
Species: "Altruism's Allure" (January 2022, 24 min)
Why do bad animals do good things? In this episode, Macken discusses some of the main reasons why humans do good, and dives into one of the little-known benefits of altruism.
Giving Done Right: "Giving Cash to Those in Need" (November 2021, 44 min)
A discussion with Paul Niehaus, co-founder and chairman of GiveDirectly. Paul discusses the power of direct cash transfers – how they work, why trusting those in need with cash can be extremely effective, and when certain issue areas might warrant a different philanthropic approach.
Conversation Starter Questions:
What are your thoughts on effective altruism?
How do you approach giving to causes? Is it strategic or random? Do you research the organizations you give to?
How much of your giving is guided by your own personal experience?
How do you feel about giving direct cash to those in need?