AGING: February 2023 podcast playlist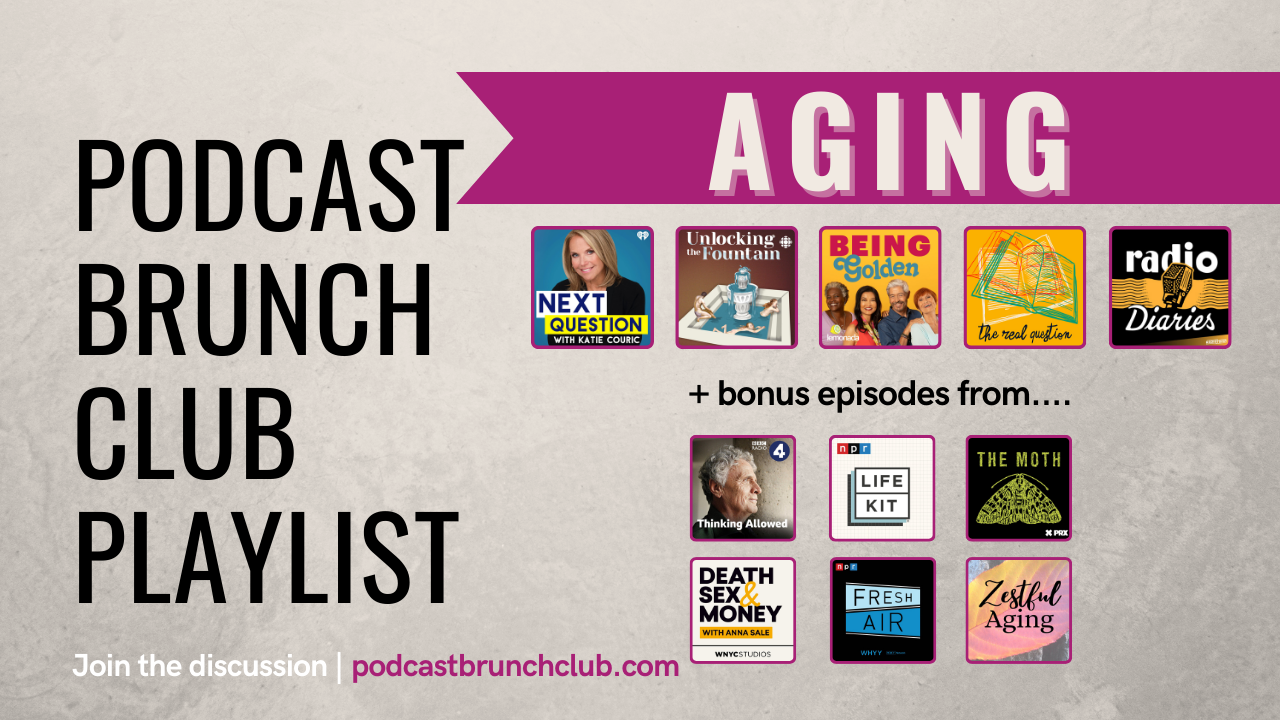 Like it or not, we're all getting older. Some people decide to lean into aging, while others fight it with all they've got. How does ageism play into our decisions about how to age? And, what, if anything, can and should science do to increase longevity? The episodes in this month's playlist tackle these questions and offer a variety of perspectives on the topic.
Podcast Playlist on AGING
Get the full playlist on your podcast player of choice using these platforms:

Next Question with Katie Couric: "Is ageism getting old?" (October 2019, 47 min)
Getting older should be something to celebrate. Instead, our youth-obsessed culture tells us we need to get rid of our wrinkles, dye our gray hair, and shave years off of our LinkedIn profiles, or risk becoming irrelevant—or worse, invisible. But why do we treat the very normal process of aging like it's something to be ashamed of? On this episode of Next Question, Katie talks to an amazing group of women who refuse to apologize for acting (and looking) their age.
Unlocking the Fountain: "Episode 1: 150 Candles" (September 2021, 32 min)
Are we on the verge of medical breakthroughs that will extend healthy human life by decades? Some scientists say the first human to reach 150 years is already alive. Is it you?
BEING Golden: "Why Can't Dreams Happen at 70?" (November 2022, 40 min)
Meet Buzz, a 71-year-old former sales and marketing executive who drastically uprooted his life by moving out west to Los Angeles to pursue a lifelong dream of becoming an actor — even if it means taking a job as a rideshare driver to make ends meet, and despite objections from his adult kids. And meet Gloria, a 71-year-old retiree with a past as spicy as her personality. As she looks back on her dating history, is it time to finally open a new chapter and look for love (or just a good time) by diving into the dating app scene?
The Real Question: "Middle Age" (September 2021, 40 min)
Casper is getting older and he's been thinking about what that means. On the one hand: age is just a number! There's no such thing as the 'right' thing you should be doing at any age. But on the other hand: he wants to make sure he's stepping into the full responsibility of what it means to be an adult. Without subscribing to tradition benchmarks, how do you keep yourself on track?
Radio Diaries: "The Last Place: Diary of a Retirement Home" (April 2021, 32 min)
Get to know the residents at Presbyterian Homes, a retirement home in Evanston, Illinois.
Conversation Starter Questions:
How do you approach aging – as something to fight against or something to accept?
Do you think ageism is a wide practice in the culture in which you grew up?
Do you think science should extend the lifespan of humans?
Did any of these episodes make you think differently about your own aging process?
Does your own aging enter your consciousness often?