On What a Day, Akilah Hughes brings a different voice to the news
by Jenna Spinelle on February 22, 2020.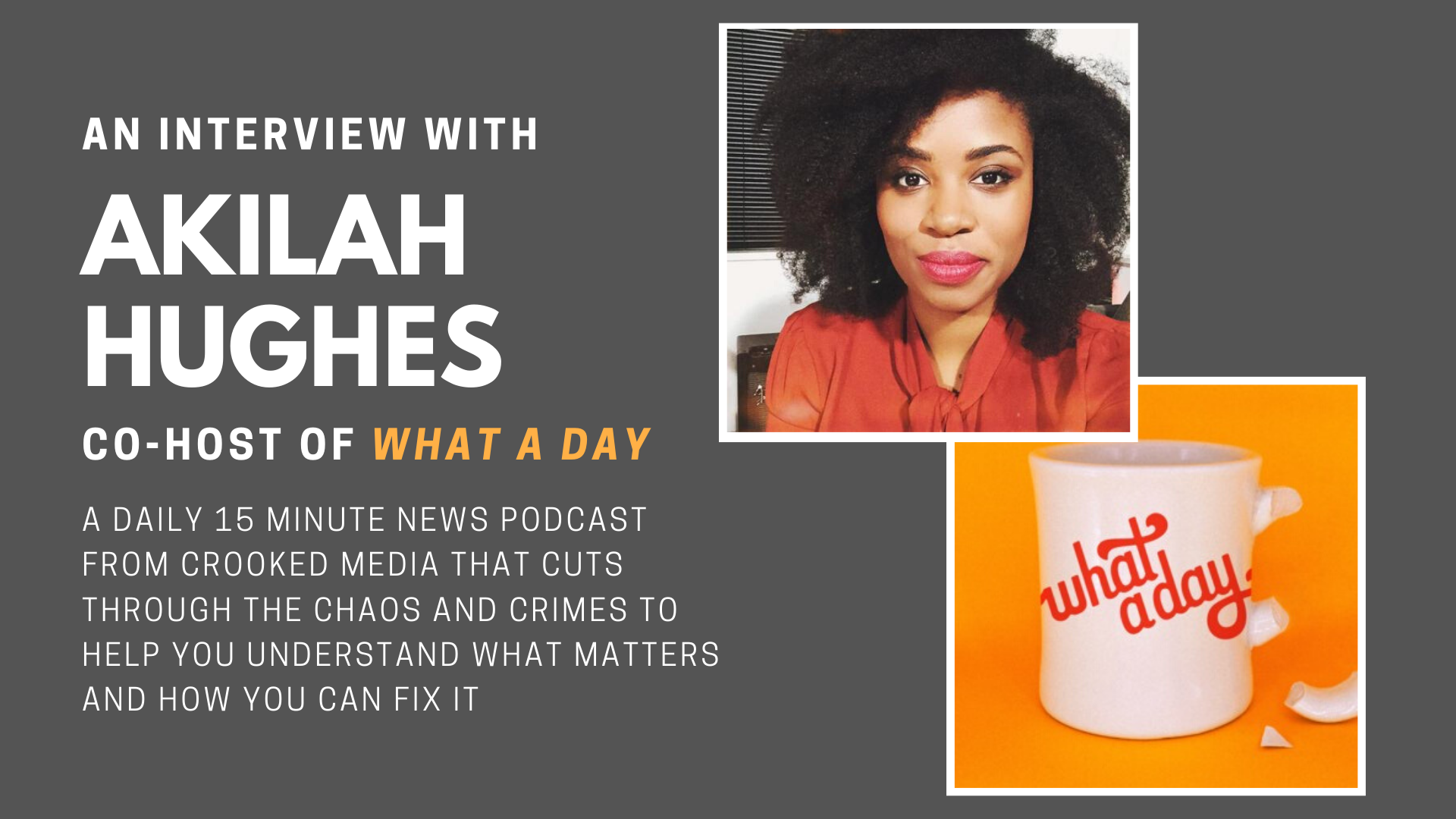 There are no shortage of daily news podcasts out there, but Crooked Media's What a Day offers a slightly different take on the days headlines, thanks in part to host Akilah Hughes.
Every weekday, Hughes and reporter Gideon Resnick break down the day's biggest stories and look at things that might have slipped through the cracks — all with a slightly irreverant perspective. As the show's description says, it's like "what 'Fox & Friends' would sound like if it were hosted by two people whose parents read to them as children."
Hughes, who is perhaps better known as Akilah Obviously, came to podcasting from YouTube and comedy — not from a news or journalism background. She now has one foot planted in each world and recently released a memoir called Obviously: Stories from My Timeline.
She took a few minutes to talk about how she balances it all and keeps a sense of humor while doing so.
How did you make the transition from YouTube to podcasting?
It was less of a transition than a natural conclusion. I still make comedy sketches, but rarely for my own channel. While I was making consistent videos for my YouTube channel I was being asked as a comedian to guest on podcasts. Crooked Media asked me to contribute in the fall of 2017, and honestly they just haven't been able to get rid of me. I have toured with Lovett or Leave It several times and even got to be their correspondent for the HBO series Pod Save America.
As for What a Day (my full-time gig) I ended up becoming the host kind of by accident. I was in LA shooting a video for their Vote Save America initiative and they asked if I'd want to read through a test script and give notes. So we recorded that and I flew back to New York. Within a week I was offered a TV writing job based on my book, and I thought "Awesome! I can be bicoastal!" and only a couple days later Crooked offered me this power position with the caveat that I'd have to fully relocate. I didn't sleep soundly for a week, but I decided it was time to take the risk and I'm really glad I did.
TL;DR, YouTube and podcasting are just extensions of my comedy. They aren't competing so much as they are intertwined.
For people who are familiar with your YouTube news show, how does What a Day compare?
It's definitely similar, but now I'm reporting on daily news which is a TOTALLY different muscle than writing a monologue based on one story a week. I do think This Shouldn't Be News (the YouTube show) was more grounded in pointing out hypocrisy and absurdity of certain kinds of news coverage. And I think both shows have a healthy amount of media criticism while not laying the blame for our stressful times solely on them. But one consistent thing is that I haven't been censored in terms of having political agency and opinion, and both shows benefit from that.
Did you know Gideon before you started working together? How did you build a rapport with him?
I followed Gideon online for a long time because his political reporting was really great at The Daily Beast. But it definitely took 15-20 episodes before we found a real groove—which is the beauty of podcasting. On television if there's not a perfect show at launch, the chances of getting dropped are very high. Meanwhile we have built a core audience that loves our fun sound effects and sort of goofy spaghetti-on-the-wall ideas for presenting information that can be kind of dull or repetitive. I think it's like starting a new job in an office and it taking a couple months to loosen up and be yourself. And the more we get to know one another the better the show gets.
How does each episode come together?
Our show is incredibly collaborative. Our executive producer Katie Long runs our crew like a showrunner. So we go in in the afternoons and we immediately talk through stories we've been seeing and liking and we basically decide what our angle is and if we want to do anything special or different that day, and we all write the script. We have a comedy producer Jon Milstein, and Sonia Tunn associate produces and fact checks while also setting up interviews. Gideon and I pretty much write questions and some notes for one another and send Charlotte Landes, our editor, ideas for sounds and she makes these incredibly hilarious tableaus. It's written by all of us, and while individual segments and headlines get divvied up, it's truly a team effort.
What do you hope listeners take from the show?
The motivation for our show is not just to give people more news. We've reached peak news! So our aim is way more in the wheelhouse of informing our listeners of ways to get involved (we have so many calls to action to donating, or calling reps, or even letting people know of marches and real actions they can take if so inclined) but we also want this to be the easiest way to stay informed without getting bogged down. I think a lot of people don't engage in the news or politics because it feels daunting or divisive or like a real bummer, and our show proves day after day that it doesn't have to be that way.
What podcasts are you listening to right now?
Bradshaw Boys — this hilarious show featuring several dude comedians that just love Sex and the City)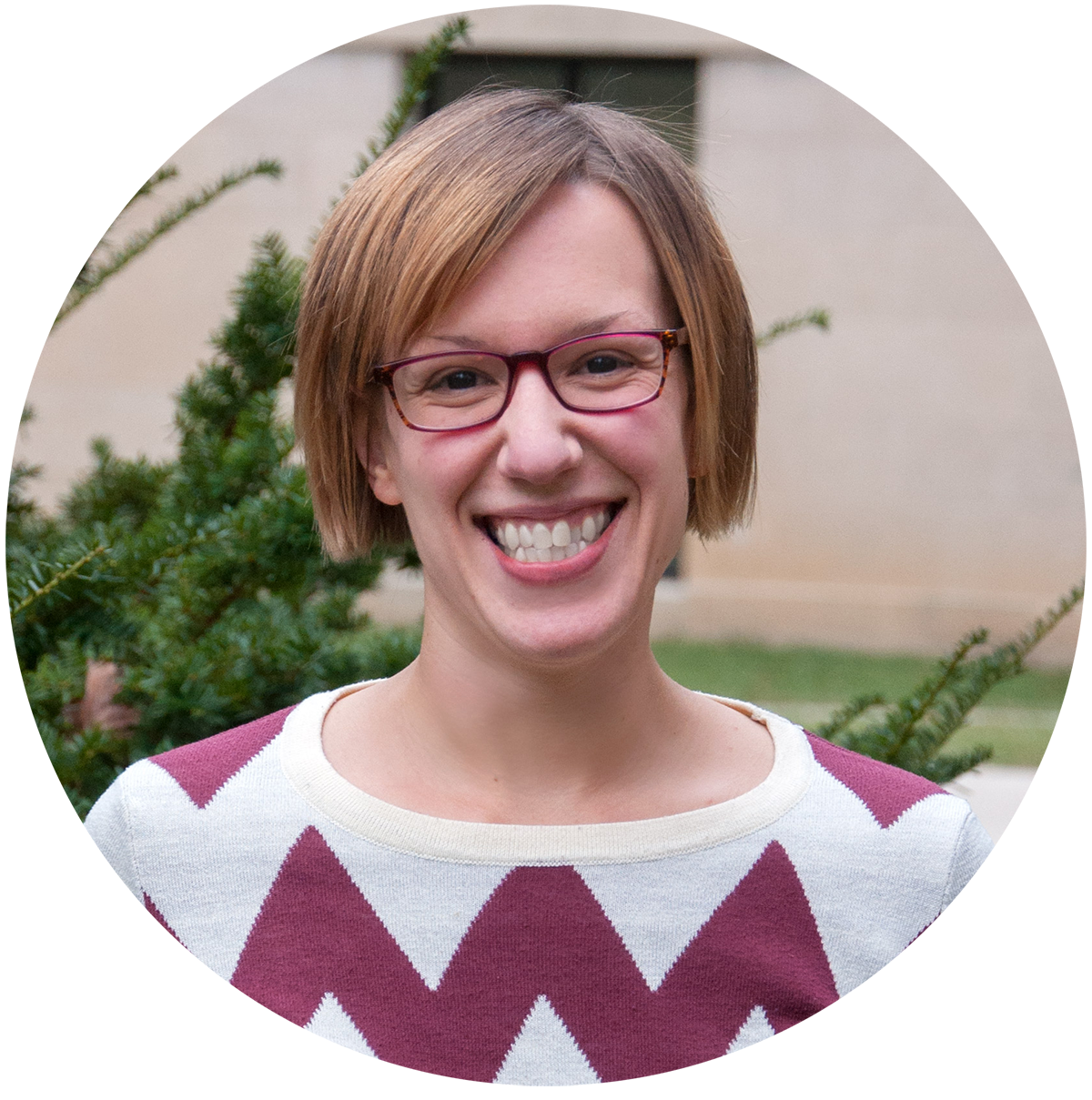 About the author:
Jenna Spinelle is a writer and journalism instructor in State College, Pennsylvania. She is a leader of the PBC Virtual Chapter and hosts the Democracy Works podcast.