Women: March 2021 podcast playlist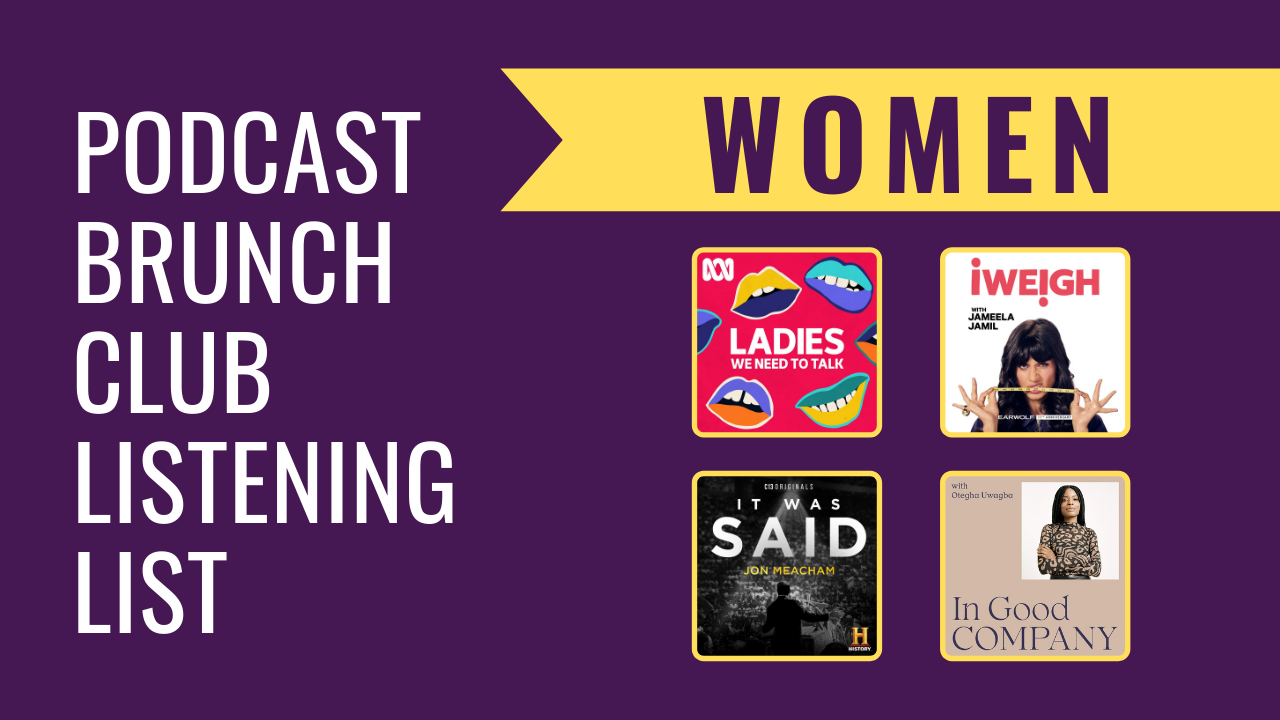 In honor of International Women's Day (March 8), we've curated a playlist that highlights women who challenge the status quo. While there were so many angles we could have taken with this playlist, we decided to focus on more recent times rather than taking a deeply historical perspective. If you feel those are missing and want to hear more about the history of women's rights, check out some of the bonus episodes below the main playlist.
Podcast Listening List on WOMEN
Get the full listening list on your podcast player of choice using these platforms:

Ladies, We Need To Talk: "Solving the mental load — update" (August 2020, 29 min)
All that relentless, unpaid, thankless and invisible work women do. Naming it is powerful, right? But we want solutions! Author Eve Rodsky, who wrote the Fair Play book and created the cards,  breaks down the mental load and teaches you how to spread the mental load more evenly with our partners — hallelujah!
I Weigh with Jameela Jamil: "Reese Witherspoon" (April 2020, 1 hr 2 min)
Reese Witherspoon joins Jameela to talk about how instagram helped her control her own narrative, struggling with postpartum depression, the red carpet advice Meryl Streep once shared, how "funny doesn't sag," and building her own media company.
It Was Said: "Ep 8: Hillary Clinton, Women's Rights Are Human Rights" (October 2020 28 min)
In the tradition of Eleanor Roosevelt, Hillary Rodham Clinton travels to Beijing to argue that women's rights are human rights, setting new global priorities.
In Good Company: "BONUS EPISODE: A Feminist State Of The Union." (April 2020, 53 min)
A live recording from the Feminist State of the Union, hosted on International Women's Day, a conversational salon about contemporary feminism featuring contributions from award-winning author Reni Eddo-Lodge, broadcaster Zezi Ifore, and Dazed Digital's Head of Fashion, Emma Hope Allwood, and covering everything from girlboss culture and the problem with corporate feminism, to intersectionality and how we can all be 'better' feminists and allies to marginalised communities.
Bonus podcast episodes:
Recommended Books & Resources:
These are books either mentioned in the episodes above or recommended by the PBC community. You can find all of our recommended books on our Amazon Idea List.
Some of the links on this page are affiliate links. If you use these links to buy something PBC may get a little something in return.
Conversation Starter Questions:
How do you relate to the idea of the "mental load" featured in the episode from Ladies, We Need To Talk? Do you experience it? Do you think it tends to fall more on women's shoulders than men's?
How do you think that women in Hollywood are held to different standards? And, while there has arguably been progress, do you think that the rate of progress is sufficient?
How do you think celebrity women, like Hillary Clinton, Jameela Jamil, and Reese Witherspoon, should use their celebrity to bring attention to gender issues?
Prior to listening to this playlist, were you familiar with Hillary Clinton's famous speech that declared "women's rights are human rights and human rights are women's rights?" The episode argued that the speech was revolutionary for the time (1995). How do you feel about that statement?
What were your gut reactions to the panel on feminism featured on the episode from In Good Company?