Q&A with James Edwards, host of Un(re)solved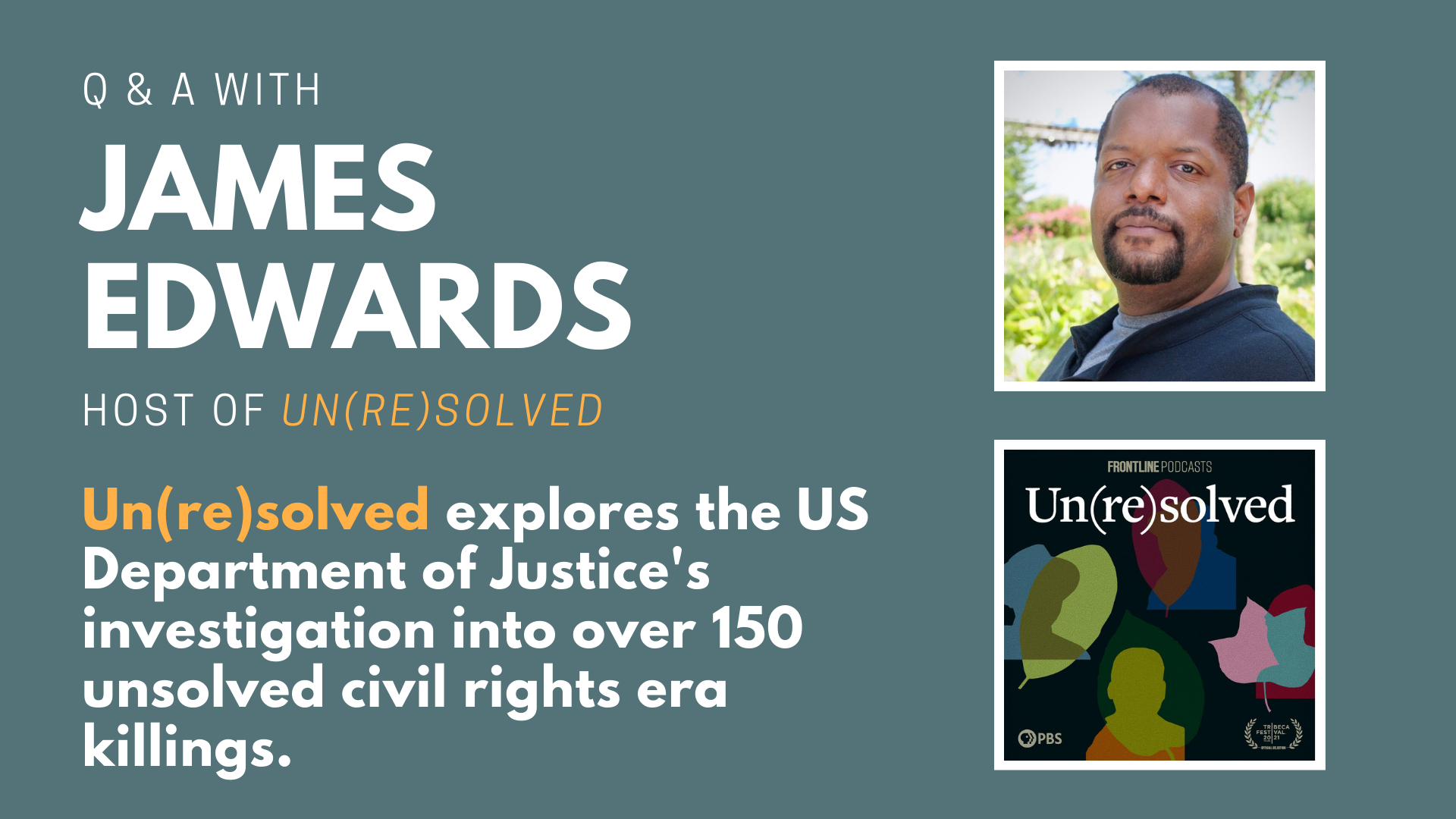 The Un(re)solved podcast is an investigative series that examines what prompted the U.S. Department of Justice to investigate over 150 unsolved civil rights-era killings and what justice looks like for the families of the victims. Reporter James Edwards seeks answers to these questions, reflecting on his own family's experiences along the way. James hosted, reported, and co-produced the podcast, which debuted at the Tribeca Festival in June 2021 as a Narrative Nonfiction Official Selection. Un(re)solved is part of a multiplatform project from FRONTLINE.
Podcast Brunch Club members will remember that we listened to the first episode of Un(re)solved as part of our playlist on UNCOVERING THE TRUTH. We're excited to feature the following Q&A with James.
Tell us about yourself – what is your background?
James: Well, like I say in the podcast, I grew up on Chicago's South Side. Although I don't currently live there now, I've lived the majority of my life there, and my family's roots in Chicago go back more than 100 years. So it's a place that has played a significant role in shaping who I am and what I do, even to this day from a distance. I probably wouldn't have become a journalist if I didn't grow up there. As a kid, I began reading the local newspapers, and by high school I was bringing the paper with me every day. My classmates would call me "the paper guy" and borrow it for either the sports section or the comics, but I always had to read it front to back…needed to know what was going on everywhere, especially politics. That was always the favorite past time with my dad: talking politics. Our version of playing catch. Interestingly, I wasn't thinking about becoming a journalist at this point. I wanted to write movies or plays. I even dipped my toe into writing poetry; a teenage rite of passage. I always knew whatever I did had to involve telling stories, and as I got older I realized that the stories I was most passionate to tell were the stories from real life, from history, what I saw in the news, and what I saw around me on the South Side. So in my last semester of undergrad, I decided to give journalism a try. Fourteen years later, here I am.
What is Un(re)solved about?
James: On one level Un(re)solved is pretty straightforward: an investigative journalism series about the federal government's efforts to investigate and bring closure to more than 150 unsolved civil rights-era murders; how this effort came about; what its results have been; and why those results, or lack thereof, have persisted for more than a decade. But, like many stories, there are more layers to it. Some I knew going in, while others I discovered as we were making it and as the events of 2020 unfolded and seeped into our consciousness. Un(re)solved deals a lot with truth…not just uncovering it, but, as Americans, our struggles collectively to face many past truths, uncomfortable, very ugly truths, about our history and how it has shaped—and continues to shape—the world we're living in today. The emotions people felt, particularly Black Americans, surrounding the trial and conviction of Derek Chauvin are built upon the injustices that preceded it. Eric Garner. Emmett Till. Tulsa. 1919. So many examples where the lack of justice is the norm. The list of names on the government's cold case list is a direct thread to our present.
And if you peel back further it's also about something more intimate: grief. The beating heart of Un(re)solved are the families of those who've been killed. Their lives, their loss, and how they've been affected by it. Oftentimes with crime stories, most attention is focused on the crime or the action to uncover what happened, but lost in that are the people. I've read and watched many accounts about the Selma marches and police shooting of Jimmie Lee Jackson, but getting to talk to his sister Emma Jean and hear in her words not only what happened the night her brother was shot by an Alabama State trooper, but also listen to her tell me about who Jimmie Lee was as a person, their life growing up together, and what her life has been like since his death, you can't help but think about the number of other families who've suffered a similar trauma and whose names and stories we don't know. Generational trauma is something we're only just beginning to talk about publicly and acknowledge. For me, the more I reported and the more people I talked to, that became the center of this story, how these traumas get passed down and affect us, but at the same don't define us.
How did the idea for the show come about?
James: The idea for the entire Un(re)solved project goes back about two and a half years. Given the scope of the cold case initiative, it was always envisioned as being a story to tackle with a multimedia effort. Lots of different ideas and approaches got kicked around. And as the project got going, it kept expanding and the podcast eventually became a component of that larger effort.
It is clear that you have a deeply personal connection to the content of the podcast. Can you tell us more about that?
James: I mentioned generational trauma and how it gets passed down. That includes my family as well, and it's something I had to process and look deeper into as we made this series. I didn't start out expecting that my own family's history would become a part of the story. I started more focused on the reporting. But when I wasn't working, and to pass the time during quarantine, I got an Ancestry subscription and started building my family tree. Uncovering all of these census records and other documents just brought out a lot of questions I guess I always had about my family and relatives who I never got to know. After arriving in Chicago, much of my family on both sides never went back South, but from all these records I saw we had roots in Mississippi, Louisiana, Oklahoma, and Arkansas. The more I uncovered, I found myself asking one particular question: what was it that made them not want to go back or talk about it? The only story I know is that in the 1930s my grandmother witnessed the aftermath of her uncle's killing—one of many, many people whose deaths predate the civil rights-era and weren't written about. While my family didn't have a loved one on the government's list, we still have this shared history, shared places, with those who do.
We understand that the podcast is one element of a larger effort to inform the public about the work. We'd love to know more about the other initiatives that are being undertaken.
James: Yes, the Un(re)solved project takes many forms. In addition to the podcast, the multiplatform investigation is told through a web-based interactive experience, an augmented-reality installation, a documentary, and a curriculum guide. Notably, the project also makes available to the public for the first time a comprehensive interactive list of all those whose cases were re-examined by the Department of Justice.

Web-based interactive experience – Narrated by the award-winning journalist, author, and civil rights pioneer Charlayne Hunter-Gault, this immersive interactive storytelling experience invites visitors to go back in time to learn what happened in these cases and about the families still seeking justice today.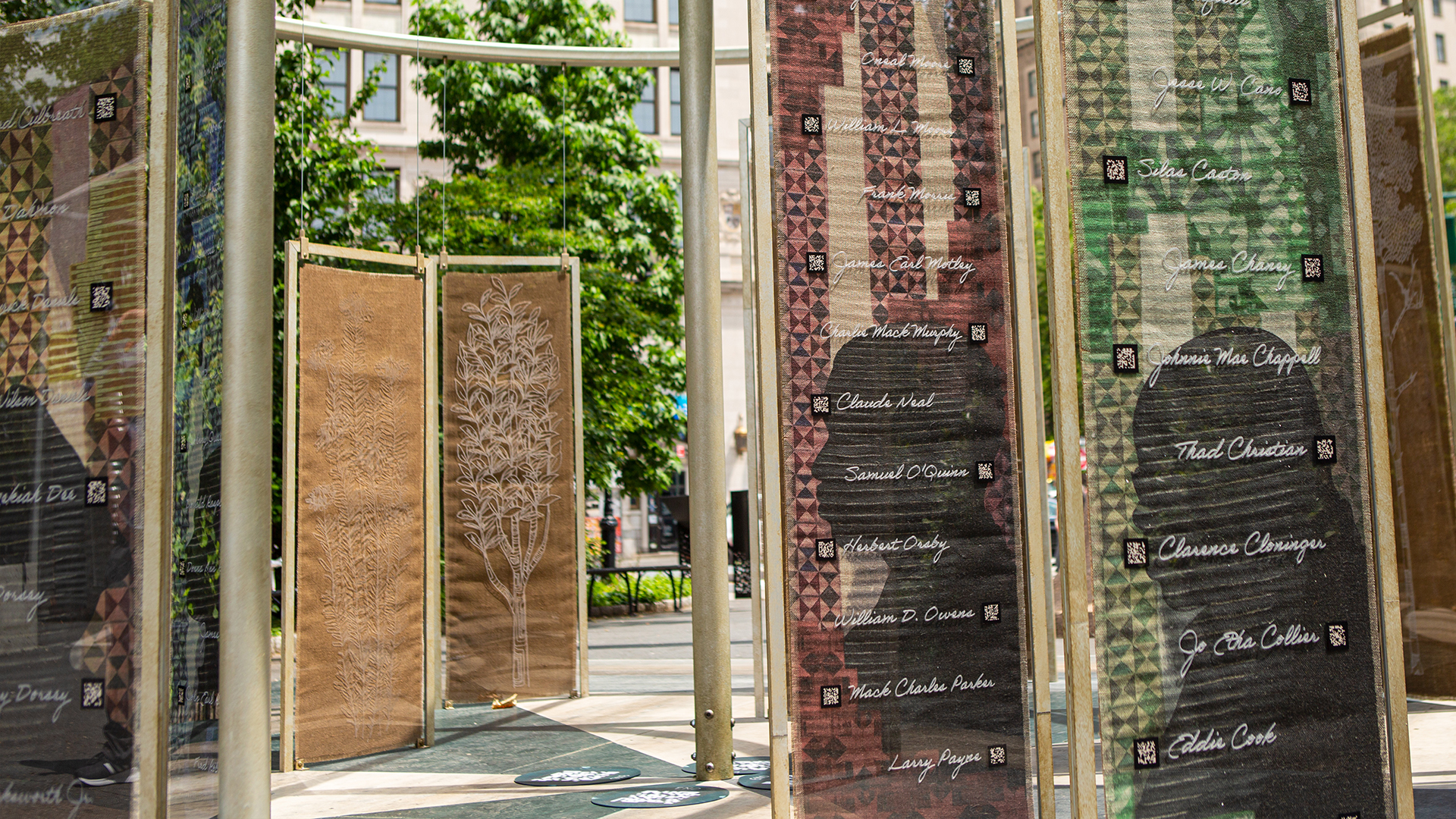 Augmented Reality (AR) Installation: In this experience that mixes art and technology with investigative journalism, people can learn about a federal effort to investigate racist civil rights-era killings and right wrongs of the country's past.
The AR-installation exhibit is currently featured at The Two Mississippi Museums in Jackson Mississippi until 10/24. In November 2021, the exhibit will move to the Dusable Museum of African American History in Chicago.
The documentary: Directed by filmmakers and journalists Yoruba Richen (The Killing of Breonna Taylor and The Sit In: Harry Belafonte Hosts the Tonight Show) and Brad Lichtenstein (When Claude Got Shot and As Goes Janesville), the documentary focuses on the case of Wharlest Jackson and the violent campaign of terror waged by the Ku Klux Klan gang known as the Silver Dollar Group. The documentary will premiere on FRONTLINE PBS.
Curriculum: As we approach a moment when surviving family members may no longer be alive to share the stories of these Civil Rights-era victims, a curriculum guide is being designed to accompany UN(RE)SOLVED and to help educate students about this chapter of American history and preserve its lessons for generations to come.
People can subscribe to the Un(re)solved newsletter to receive additional updates about the full project and the traveling exhibit.
Posted September 30, 2021.