Fixing Things: July 2021 podcast playlist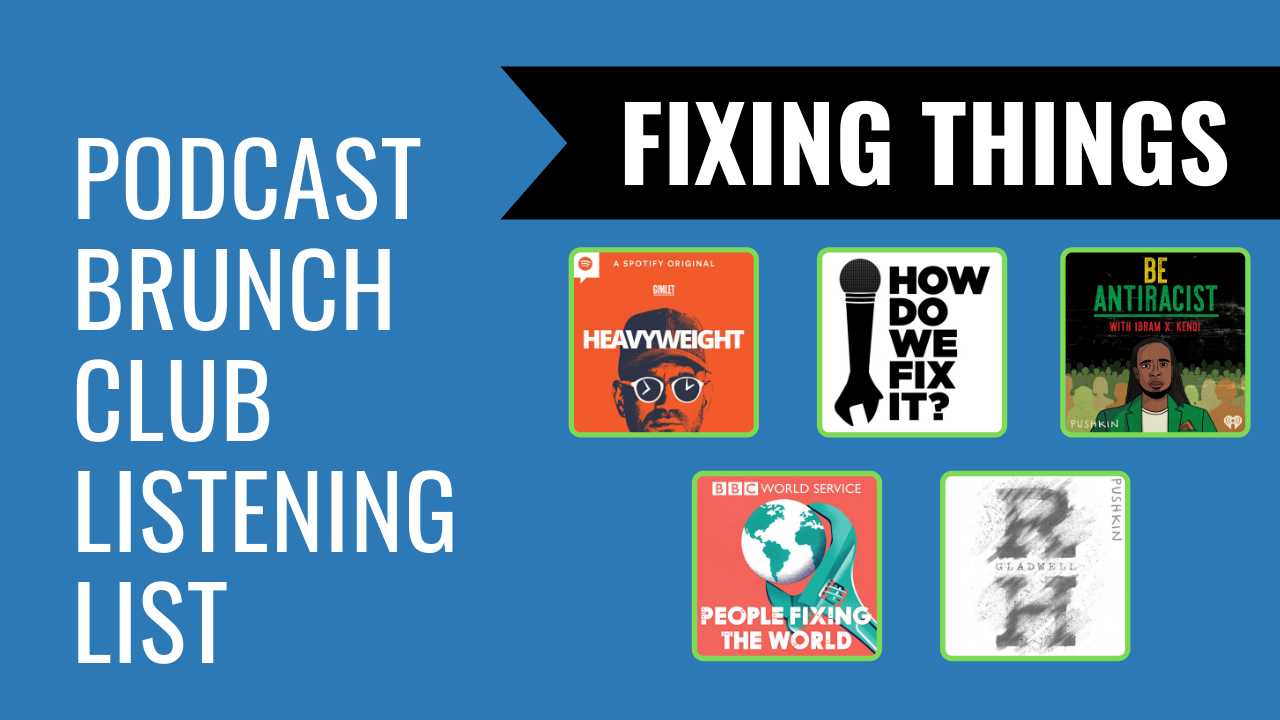 If the last year and change have taught us anything, it is that this world we live in is full of problems. Every time we turn on the TV (or listen to a podcast), we hear about it…pandemics, wars, murders, insurrections, building collapses, economy collapses, government collapses, and the list goes on. It can be quite overwhelming. It's important to acknowledge the problems we face, but it does us no good to harp on the problems if we can't simultaneously work on solutions.
This playlist takes a look at various attempts at fixing things. Each episode aims to solve a different problem: a relationship, loneliness, racism, recycling, and higher education.
This playlist is sponsored by Pushkin Industries.
Podcast Listening List on FIXING THINGS
Get the full listening list on your podcast player of choice using these platforms:

Heavyweight: "#1 Buzz" (September 2016, 45 min)
Fixing a relationship. This episode is a heartwarming and hilarious attempt to dig into the distant past to resolve a brotherly dispute that has lasted decades.
How Do We Fix It?: "The Loneliness Pandemic. Noreena Hertz" (January 2021, 27 min)
Fixing loneliness. This episode explores the pandemic of loneliness and offers solutions to solving it. Noreena Hertz, a British economist, is the guest on the podcast and is the author of "The Lonely Century: How to Restore Human Connection in a World Pulling Apart."
Be Antiracist with Ibram X. Kendi: "The Zero-Sum Myth: We're Divided, We're Conquered" (June 2021, 42 min)
Fixing racism. The zero-sum philosophy is that if one person wins, another has to lose. Heather McGhee, an expert in economic and social policy and author of the best-selling book "The Sum of Us: What Racism Costs Everyone and How We Can Prosper Together," explains that the zero-sum philosophy is one of the myths upon which racism is built. In this episode, she and host Ibram X. Kendi, the author of "How to Be an Antiracist," challenge that viewpoint and talk about how a rising tide lifts all boats.


People Fixing the World: "The reuse and refill revolution" (April 2019, 23 min)
Fixing recycling. You know that three-arrow triangle that you immediately associate with recycling? Well, the three arrows represent three concepts and they are in order of declining importance: reduce, reuse, recycle. Somehow society has focused on the last, and least important, of the three arrows. What about reduce and reuse? This episode highlights various efforts to reuse, and therefore reduce, plastics.
Revisionist History: "Lord of the Rankings" (July 2021, 37 min)
Fixing higher education. For 30 years, US News & World Report has been using a secret formula to rank the best colleges and universities in the United States. As a public service to our listeners, we hack the algorithm and discover the dirty little secret of the rankings game.


Conversation Starter Questions:
Have you ever had to fix a relationship by getting a third-party involved? Did it help?
What alternative community structures can you imagine that would solve the loneliness pandemic?
In Be Antiracist, the guest introduces the Zero-Sum paradigm as a way of thinking that's historically held America back. She argues that the commonly-held belief that racism is "good for White people" is a lie, and that this lie has perpetuated inequity that disadvantages people of all colors. How has the Zero-Sum myth shown up in your life? Is there progress that you've thought this country could make, but feared it would come at a cost to you?
Do you try to reuse product packaging? What did you think about the solutions that were proposed in the People Fixing the World episode?
Have you turned to rankings to make a decision or evaluate something? If so, how useful were they?
Have you used the U.S. News & World Report rankings to evaluate a higher education institution? Outside of those rankings, how would you evaluate the "reputation" of an institution of higher learning?
Do you think rankings simply reinforce structural biases, or do they fill a need?