DREAMS: June 2022 podcast playlist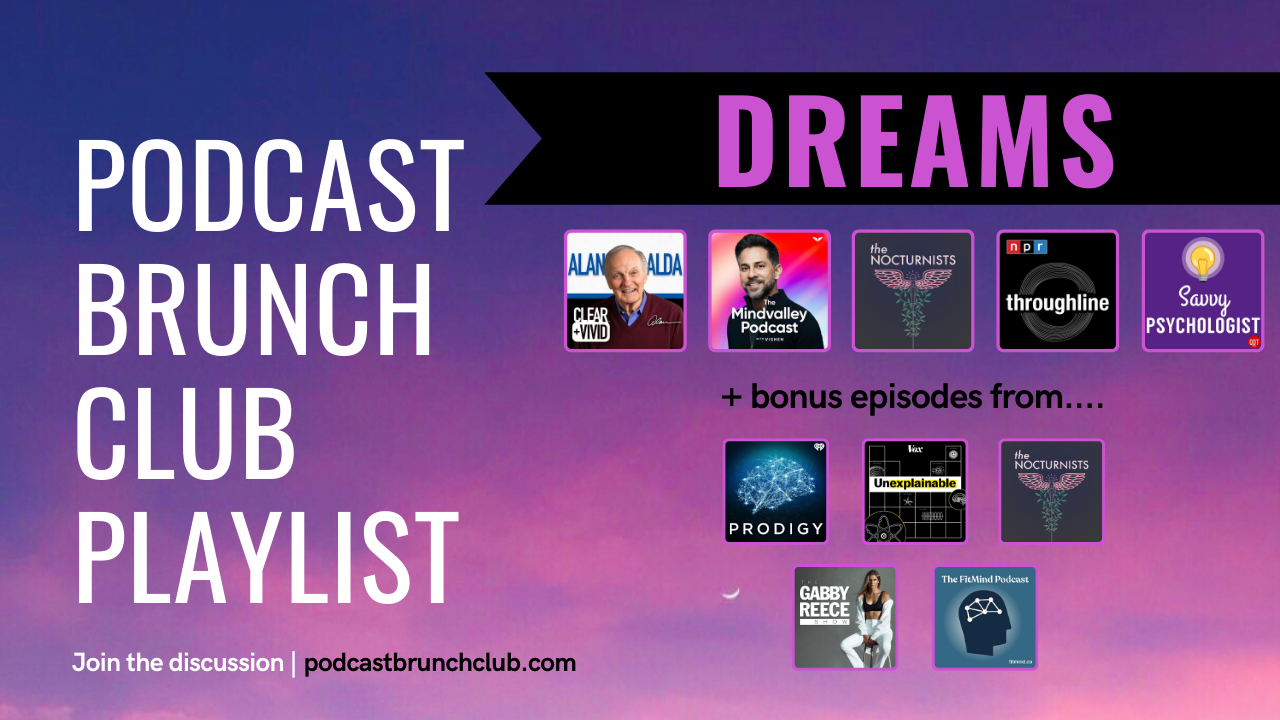 There is so much talk these days about how important sleep is for our physical and mental health. But, what about dreams? Why do we have them? And can we harness their power? This playlist explores the science, psychology, and power behind our dreams.
Podcast Playlist on DREAMS
Get the full playlist on your podcast player of choice using these platforms (see the * below for instructions):

Clear+Vivid with Alan Alda: "Robert Stickgold – Why do we dream?" (January 2021, 43 min)
We not only need to sleep, we need to dream, too. Robert Stickgold explains why we must go to the movies every night when we sleep – it's to make sense of our waking world. And it's all in his book, "When Brains Dream."
The Mindvalley Podcast with Vishen: "How Lucid Dreaming Can Change Your Life – Charlie Morley" (February 2021, 39 min)
Lucid dreaming can be used to consciously direct the dream so that we can learn, train, meditate and gain answers to some of life's biggest questions while we dream. The practice has been used for thousands of years by Tibetan Buddhists, Mexican Shamans, and Sufi Mystics who knew the powerful healing lucid dreaming could facilitate. In this inspirational talk, bestselling author and lucid dreaming teacher Charlie Morley explores how lucid dreaming can transform the third of our lives that we spend asleep!
The Nocturnists: "Stories from a Pandemic: Part II – Ep.4: Dreams and Nightmares" (June 2021, 30 min)
We know the pandemic has affected the waking lives of healthcare workers. But what happens after we fall asleep? Does the pandemic haunt us in the shadows too?
Throughline: "The Way We Dream" (January 2022, 52 min)
Our dreams can haunt us: literally. Recurring dreams about failing tests or running late are a common occurrence, but what are we to make of them? And are there hidden meanings in our dreams? Paleolithic hunter-gatherers may have painted their dreams onto caves, Julius Caesar's wife envisioned his assassination in a dream, and major works of art and music have been inspired by dreams. But with the scientific revolution came a different view of dreams, one in which they were dismissed as merely a meaningless biological reaction. Today, researchers are challenging that age-old assumption and finding new evidence that dreams are a vital way human beings process the world. In this episode, Sidarta Ribeiro takes us on a journey through the history of our understanding of dreams.
The Savvy Psychologist's Quick and Dirty Tips for Better Mental Health: "How to Have Lucid Dreams" (April 2021, 10 min)
Lucid dreamers have been fighting goblins, flying, and conjuring entire galaxies in their dreams for centuries, all while feeling awake and engaged in the action. Now, scientific research tells us that lucid dreaming isn't just the stuff of sci-fi—it's a learnable skill. Would you like to give it a try?
Recommended Books & Other Resources:
We've started compiling recommended books from the podcast playlists and from our chapter meetings on our Amazon Idea List. Some of the links in this post may be affiliate links. If you use these links to buy something PBC may earn a commission.
Conversation Starter Questions:
Do you remember your dreams?
Before you listened to the playlist, did you think dreaming was important? Now that you've listened, have you changed your mind?
Are you interested in trying lucid dreaming?
* If you are manually finding each episode on a playlist in your podcast app, there is an easier way!!!! Every month we add the PBC playlist on four platforms: Listen Notes, Podchaser, Podyssey, and Spotify. We do this to make it easier on you so that you don't have to hunt for each episode manually on your player of choice. You can simply grab the rss of the playlist from Listen Notes, for example, and drop it into your player and…boom!!…all of the episodes magically appear. Here's a video that shows an example of quickly adding the episodes to Pocketcasts using the Listen Notes playlist.