September 11th: Bonus podcast playlist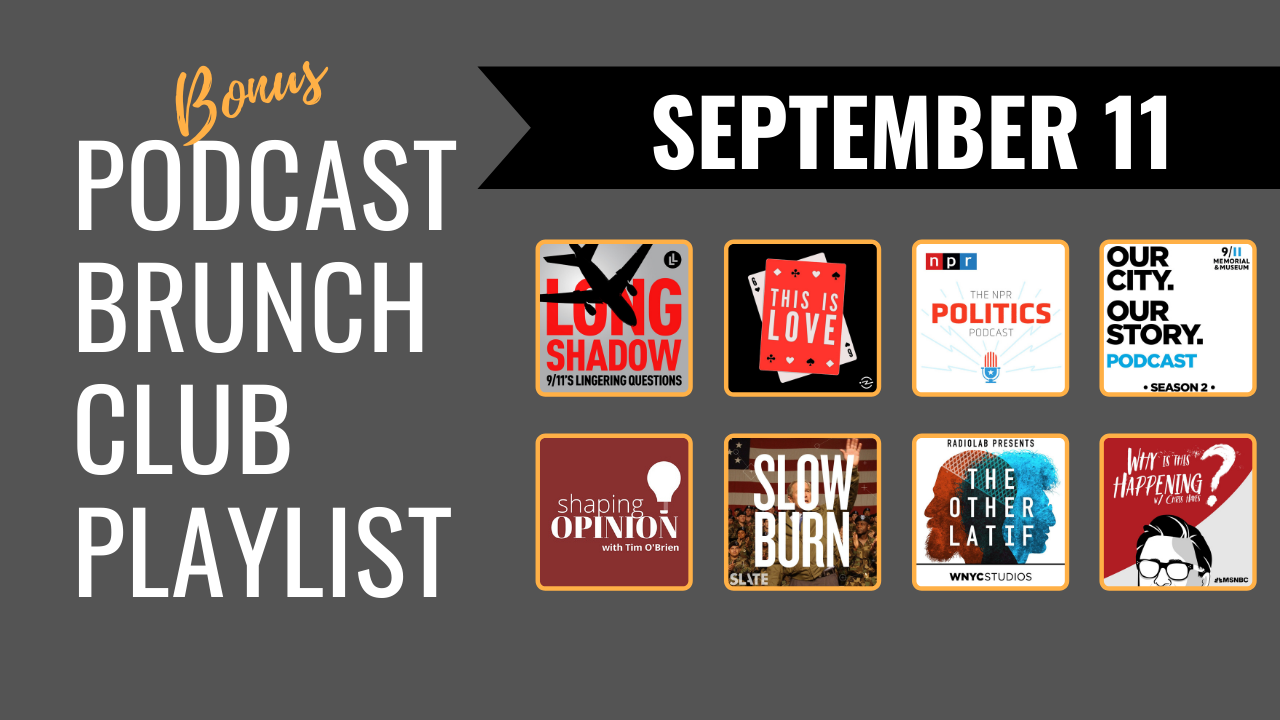 Between 8:46 am and 10:03 am ET on September 11, 2001, four commercial airliners hit four separate targets in a coordinated terrorist attack on the United States. On that day, 2,977 innocent people perished, tens of thousands were injured, two skyscrapers collapsed, firefighters, police, and regular people became heroes, and the world mourned. We are all—those of us who remember the events, those of us who were too young to remember, and those of us who weren't born yet—living in a world that is scarred by the attacks themselves and the aftermath.
This playlist is about the events of that day, the people who lived through them, and their reverberations through today.

This playlist is sponsored by GOAT RODEO, a creative audio agency.
Podcast Listening List on SEPTEMBER 11
Get the full listening list on your podcast player of choice using these platforms:

Long Shadow: "Why weren't more people rescued from the Twin Towers?" (August 2021, 46 min)
Even after 20 years, it still feels completely unbelievable that the twin towers fell. This episode looks at three questions: Why did they fall so fast? Could more people have been rescued? Could some of those deaths have been avoided?
This is Love: "Episode 20: Roselle and Michael" (April 2020, 32 min)
An incredible story about a blind man's escape from the North Tower of the World Trade Center.
The NPR Politics Podcast: "Sacred Ground: A 9/11 Story" (September 2021, 56 min)
What happened on United Flight 93, which crashed outside of Shanksville, Pennsylvania?
OUR CITY. OUR STORY.: "The Imam: Khalid Latif" (July 2016, 19 min)
After the towers fell when he was a New York University student, Imam Khalid Latif became a leader in the local Muslim community. He reflects on growing up before and after 9/11, and addresses the challenges Muslims in America continue to face today.
Shaping Opinion: "9/11: As It Happened" (September 2021, 1 hr 42 min)
A 100-minute, moment-by-moment telling of the story of 9/11 through the experiences of several guests with first-hand experiences of the events as they unfolded. This is one episode of a 9-part special series, "9/11: A Generation Removed."
Slow Burn: "S5 Ep. 1: The Exile" (April 2021, 53 min)
One of the many aftereffects of the September 11th attacks was the Iraq war. It's a war that killed hundreds of thousands of people and destroyed America's credibility on the world stage. How much can that war be traced to one Iraqi exile's longstanding quest to return to Baghdad?
The Other Latif: "My Namesake" (March 2020, 42 min)
After 9/11, U.S. President George W. Bush declared a War on Terror and established the Guantanamo Bay detention camp, which held detainees indefinitely and without trial. One prisoner, Abdul Latif Nasser, shares a name with the host and producer of this show. In this episode, the first of the series, we hear the evidence against Nasser and we meet his attorney, who contests the government claims against him.
Why Is This Happening? with Chris Hayes: "The War on Terror with Spencer Ackerman" (August 2021, 53 min)
Spencer Ackerman, Pulitzer Prize-winning journalist and author of "Reign of Terror: How the 9/11 Era Destabilized America and Produced Trump," discusses catalysts for the War on Terror, inflection points, recent developments in Kabul, and the role of U.S. hegemony in continued global combat.
Conversation Starter Questions:
There's a generational divide when talking about 9/11: some adults remember it clearly, some were very young. How old were you when the 9/11 attacks happened, and how clearly do you remember the day?
How do these podcasts add to / change your understanding of 9/11?
How does it feel to hear firsthand stories from people who were affected by the attacks?