GATHERING: November 2023 podcast playlist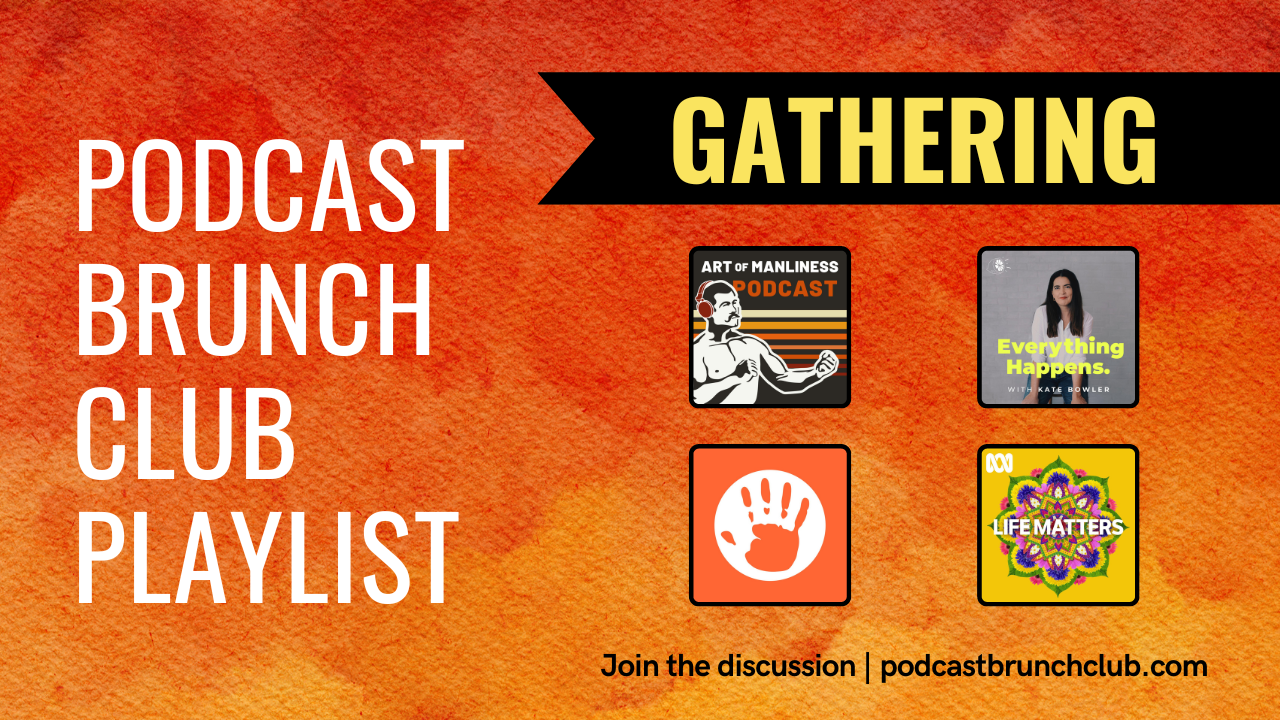 Gathering, whether in the form of social events, professional meetings, or communal activities, holds immense significance in our lives. The act of gathering can be pivotal in nurturing relationships, fostering progress, and building a sense of unity among individuals and communities. But, how we gather is important to consider. Creating a gathering with meaning is challenging, but important. These episodes explore how to create meaningful gatherings.
Podcast Playlist on GATHERING
Get the full playlist on your podcast player of choice using these platforms:


The Art of Manliness: "Throw a 2-Hour Cocktail Party That Can Change Your Life" (February 2023, 1 hr 3 min)
Nick Gray shares what he's learned from throwing hundreds of parties and refining his hosting technique to a T. He explains why cocktail parties are better than dinner parties (and don't have to involve actual cocktails), the best night of the week to throw a party, why the party should only be two hours long and have a firm end time, how many people to invite, and who to invite when you don't yet have any friends. And he explains why he's a big fan of two things you might be hesitant about — name tags and icebreakers — and why two of his favorite things to include in a party are grapes and a harmonica.
Everything Happens with Kate Bowler: "Priya Parker: The Art of Gathering" (November 2022, 45 min)
How do we gather in meaningful ways? Priya Parker is an expert facilitator who encourages us all to practice being together for different reasons. And they don't have to be nearly as fancy or predictable as we might think. This episode covers: how to show up for other people and ourselves in creative ways, how to know when a change might be needed in a regular gathering, the risk and the awkwardness of needing people.
Humanize Me: "405: Bart has a new community idea" (February 2019, 40 min)
A letter this week from a listener who says he's hungry for community with like-minded secular people is just the latest one like it. But this one couldn't have come at a better time, or landed on more fertile soil. Two Sundays ago, Bart Campolo and a team of like-minded people held their first content-driven gathering at his new house in Cincinnati. The theme of the event was, 'Paying Attention.' They have decided to hold these meetings once every 2 weeks, with a different theme each week. Bart has a hunch that their material may be of interest to the wider Humanize Me community, and his team are excited to share their format.
Life Matters: "How do you survive awkward family gatherings?" (May 2023, 54 min)
How can we avoid awkward clashes at family reunions? Plus, should I reveal my father's mental health issues in his funeral speech?
Conversation Starter Questions:
Do you give a lot of thought to the way that you gather people?
Will you consider using any of the ideas presented on these episodes the next time you host a gathering?